Carl Becker. Medieval & Renaissance Art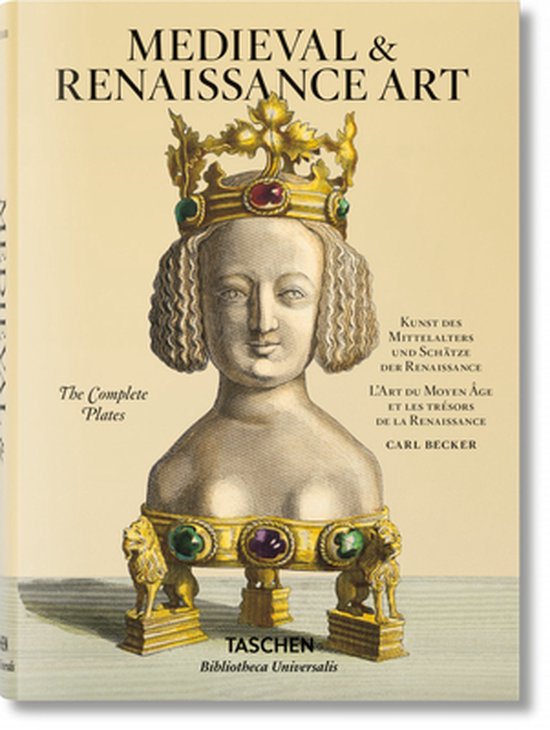 Engels | Druk: Multilingual edition | Hardcover | 9783836520263 | 604 pagina's
EAN:
9783836520263
Conditie:
Als nieuw
Verkoper:
Boekenloods Zwolle
Boekenloods Zwolle is een afdeling van Boekenhuis Zwolle, ons assortiment bestaat uit bijzondere boeken die speciaal voor deze afdeling geselecteerd zijn. -------------------------------------------------------------- Shipping outside the Netherlands or Belgium is possible, send us a message and we will make you a proposal.



Op voorraad. Voor 16:00 uur besteld, donderdag in huis



Bekijk op bol.com



When Kunstwerke und Gerathschaften des Mittelalters und der Renaissance (1852-1863) was published, what purchasers in fact bought was a printed museum. With 216 hand-colored copperplate engravings, the publication gives a comprehensive overview of applied arts in Europe from the 9th to the 16th centuries, spanning furniture, metalwork, jewelry, tapestries, and bookbinding. The book's lead editor was well placed to select masterpieces from the Middle Ages through to the Renaissance from both public and private collections. Jakob Heinrich von Hefner-Alteneck (1811-1903), was head of the Royal Cabinet of Prints and Drawings in Munich and later director of the Bavarian National Museum. The signatures on the plates of Kunstwerke und Gerathschaften show that he was also the work's main draftsman. As much an artwork in itself as a collection of applied arts over eight centuries, this exquisite catalogue offers the contemporary reader both a record and a sourcebook of all that can be achieved by the human hand and creative imagination. About the series Bibliotheca Universalis - Compact cultural companions celebrating the eclectic TASCHEN universe!